Delicious Dining at Our Columbus Restaurant and Lounge
Thrill your taste buds with the delectable dining options at Sheraton Columbus Hotel at Capitol Square. Our restaurant and lounge features creative American cuisine for breakfast, lunch, and dinner. And you can enjoy your favorite Starbucks® coffee drink during your Ohio visit - our hotel offers an outpost of the popular coffee chain.
Starbucks
Cuisine: Coffee/breakfast
Atmosphere: Casual
Hours: Daily 6:30AM-5:00PM
The Plaza Lounge
Cuisine: American
Atmosphere: Casual
Hours: Daily 12:00PM-12:00AM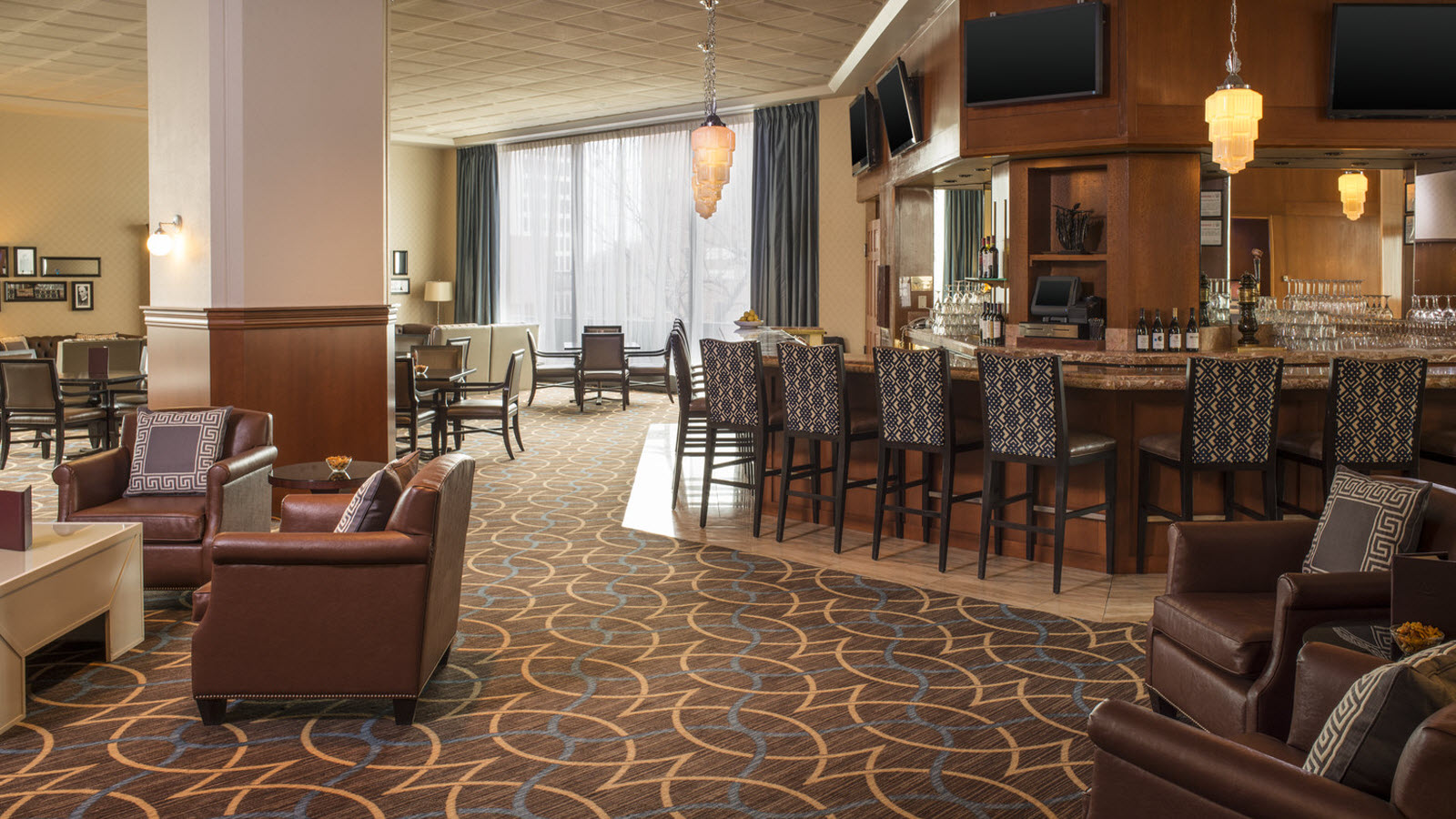 The Plaza Restaurant & Lounge serves classic comfort cuisine complemented by a boutique wine, beer and cocktail program. Hotel guests and Columbus residents flock to our restaurant for its warm and welcoming atmosphere and outstanding food.
Choose an old-school favorite, or try a traditional dish that's been updated with a modern twist. You can order small plates to share, or select from a variety of main plates and specialty items from the restaurant's grill. View our menus to learn more about our offerings.
We will happily recommend a wine, local Ohio brew, or specialty cocktail to complement your meal.
Parking
All patrons dining at The Plaza Restaurant receive complimentary valet parking; please have your server validate your parking ticket.
Reservations
To make a reservation, click below using OpenTable or call (614) 365-4550.
Meet Our Executive Chef
Chef Michael David Hammond
I started my culinary career at a young age making soups and sauces the classic ways with my mom, going into my dad's garden and picking fresh ingredients for summer salads and homemade marinara. It was at this point I gained a respect for where my food came from and the effort that goes into making various dish's for our family.
At 16 I started working at a local Bob Evans on the east side, my first job was in the dish area busing tables and washing dishes. On a busy night the manager asked if I could work in the kitchen prep area and the rest is history. I worked my way around the kitchen and ended up on the hot line where I started to get the urge to make this a career and go to school to become a chef. In the summer of 2005 after my senior year I decided that I would attend Columbus State Community College and get my degree in Hospitality Management and Chef Apprenticeship.
While attending Culinary School I was required to work in a professional kitchen as part of my education. I received my first job offer from Wedge Wood Golf and Country Club where I became a Pantry cook on their P.M. line. I would go to school one day a week often there for the whole day and then work the rest of the week at the country club. I spent a total of 4 ½ years as a line cook at the country club where I graduated from the Columbus State Culinary program. By the end of my time at Wedge wood I was offered a position as cook 1. Working in a country club taught me how to interact with guest and their needs.
My Next job was as a culinary supervisor at the Great southern hotel Downtown Columbus (Westin). This hotel was an interesting place to work as it was 115 years old with its own set of challenges. I learned how to deal with a lot of adversity working in an older hotel but enjoyed all the history that was in that building. I worked a total of 4 ½ years at the Westin, experiencing multiple Executive Chef changes, a new company buying the hotel. During an election year I made President Barack Obama's Fresh Squeezed Orange Juice, under the supervision of some very large secret service agents and made omelets for Lebron James and the Cleveland Cavilers to name just a few. By the end of my time at the Westin I had risen to Sous Chef. The Westin taught me how to deal with adversity as a chef and keep kitchens running in the face of tough situations.
My finale/current Job was as an executive sous chef at the Sheraton Columbus Capitol Square, where I refined my skills as a chef and became a better manager. I have worked a total of 3 ½ years as an executive sous chef at this property and have been a part of a lot of experiences that have shaped the chef I am today. In my first year with the Sheraton I married my girlfriend whom I met at the Country club years earlier. Later that year I lost my mom to a long battle with endometrial cancer, the staff I had around me supported me and made me feel like family. Often with death comes birth, that January four days after my 29th birthday we welcomed our son Parker into the world. To say my time at the Sheraton has been a roller coaster has been an understatement, I have met a lot of great people who have helped me become the Chef I am today, without all of them and the experiences I have gained, it would not be possible.
Each of these establishments and experiences has shaped who I am as a chef. My influence isn't limited to one type of cuisine but more of seasonal flair. I like to use local fresh products when available and try to stay on the front of various culinary trends in and around the city. Columbus continues to grow in the culinary field and has over the years been crucial to the culinary development in the state of Ohio. It is my great pleasure to continue my culinary career as the Executive Chef of the Sheraton Columbus on Capitol Square. GO BUCKS!!!